Our second litter was born on 11 July 2015 – two boys and a girl, all beautiful and healthy.  They were well socialised with lots of visitors and tea parties, it is surprising how popular you become when puppies are around!
They have all gone to lovely pet homes in the UK.  The two boys are the only dogs in the family whilst Lizzie has the company of Susie, and older Heeler, who she loves to bits though can be a bit bossy!
Sid, who now lives in Swanage, Dorset, writes his own hilarious blog El Sid.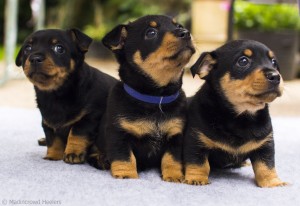 Lizzie            Sid              Pip