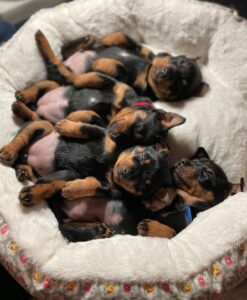 Dora, Madincrowd Bathsheba JW, had her second litter on 19 December 2020.  The sire is Welshmoor Bobbysox again as we were so pleased with how our last litter turned out.
There are four puppies, two boys and two girls.  Videos are being posted on our YouTube channel so do have a look if you would like to see how the puppies are progressing!
Fab Four

Update on Madincrowd Martha (Treasure)
We were very sad to learn of the sudden passing of Jean Lanning who was such a major influence on the Lancashire Heeler as a breed. We first met her at the Lancashire Heeler Club Championship show in 2012 when she awarded Bilbo his first Challenge Certificate.
For the last couple of years we have been in conversation with Jean who wanted to get a Heeler which she could show and eventually breed from. She knew exactly what she wanted. The process was hampered by the pandemic, but eventually Dora (Madincrowd Bathsheba) produced a litter and we were able to take a puppy up to Kings Somborne for Jean.
We spent a fascinating morning with her and the two Chihuahuas who seemed to get on straight away with the puppy, Madincrowd Martha.  Jean impressed us with her plans to show the puppy. She had a good friend close by who was going to train and show Martha and of course her housekeeper was on hand to help, plus we were only half an hour's drive away.  Martha had her own crate and bed ready and the bond with Jean was instant.  We were also treated to a Jean Lanning presentation on the breed and the finer points of the Breed Standard!
Martha's name was very shortly changed to Treasure, as Jean rang to tell us that the puppy was "her little treasure" and would be named accordingly!
Jean had left instructions that Treasure was to be returned to us as breeders should any need arise.  Sadly, a prudent arrangement.  Many thanks to Paul at Delvallie Kennels for swiftly providing safe accommodation for Jean's dogs.  Treasure has gone on to her new owners who have given her the new pet name "Jeannie" in tribute and, as Jean would have wished, she will be shown and hopefully bred from.
What better way of remembering Jean but to re-read her notes from the Lancashire Heeler Club Championship Show 2012:
"A really happy day for me to judge this delightful breed. So many admirers, with visitors from overseas. I first fell for their charms when I judged them for the Scottish Kennel Club in May 1988. The same year I was lucky to be able to buy one from Sheila Tickle called Risehill Chloe (By Pip Of Doddsline). Completely captivated, another two soon followed, and for a while they overtook the lives of my mother and myself. It is interesting to look back over 25 years to see how the breed has progressed. Now in the hands of a small dedicated group of owners and breeders, it appears to have established a firm hold, and it is good to see the breed quite often short-listed in the group at our Major Shows. If this breed is to remain true to type, it must always be a robust little dog; fairly small in stature. The "old timers" wanted a dog that would fit into the proverbial 'Poachers Pocket' This must always be a good guide? We want a versatile little farm dog, that can work with Sheep and Cattle, and knows how to kill rats with great skill? There are those who claim, this Heeler goes back to Anglo Saxon times? Of course, many a puppy, these days, will find its way into a happy family home, but it is important that the show world should remember the history of the breed! We should be custodians, to a breed we are fortunate enough to be able to keep and breed. Coats I feel have greatly improved. Smooth coats as in Dachshunds are completely wrong. Likewise the coat of the Pembroke Corgi, also incorrect. Tails in many cases still have to settle, although, they appeared overall to be better in the bitches. Mouths must be correct, i.e. good jaws with strong teeth and scissor bite. I only found one male with incorrect bite and a couple of bitches. A number of really poor fronts. I am sure some of this is in the rearing, that weakens the pasterns, but spoils the whole overall image of the dog. Movement, untidy and soft in some, which could be improved with some road work. A personal thank-you to the executive and committee Members who put on this excellent show, and fortified me with a marvellous lunch. I would be failing if I did not mention the late Norman Johnson! Long may he be remembered for his famous Doddsline Strain, which for many a year to come, will remain the pillar of the breed.
Jean Lanning"