At MadinCrowd our four Lancashire Heelers are first and foremost pets but we breed the occasional litter, have fun doing agility, scentwork, and tracking as well as showing them, plus attend Discover Dogs and Game Fairs around the country to help promote this Vulnerable Native Breed ,
We have set up this website to help you to find out more about the breed and our lovely dogs in particular!
Lancashire Heelers are a small, hardy dog.  Affectionate and playful, the breed was originally developed to help with cattle-herding – our ducks provide slightly less of a challenge, but certainly no less fun!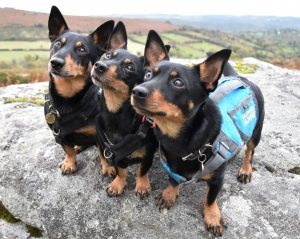 Have a look at our blog posts to find out what we get up to with the dogs and any items we think might be of interest!
Also check out our Resources & Health pages for Heeler info and other dog-related links.
For light relief, we have puppy videos:
Our second litter was born on 11 July 2015 so click on the link below to see our three puppies with mum Pickle at 12 hours old!