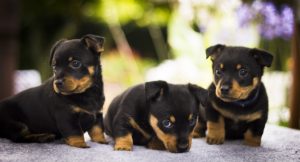 We only breed Lancashire Heeler puppies very occasionally.
Our dogs are health screened annually.  All of our dogs are KC Registered & Eye Tested under the BVA/KC Health Schemes – both Pickle and Dora are DNA tested Genetically Clear/Unaffected for CEA and PLL, whilst Bilbo is Clear/Unaffected for CEA but a carrier for PLL.
Our puppies are born in the study and stay there for the first two weeks' of their life in peace and quiet before coming out to the sitting room where they get used to all of the familiar sights and sounds of everyday life along with daily handling and lots of visitors!  They get used to hearing and watching the TV & radio as well as the usual household sounds such as the hoover.  The puppies are well socialised with lots of visits from a wide range of friends and relatives with their children, along with regular outings in the car and visits to the Garden Centre/Pet shop over the road and shops in the local town centre.
All of our puppies are Kennel Club registered, wormed, microchipped, DNA Eye Tested for both PLL and CEA (even if "hereditarily" clear), and come with 5 weeks free insurance, bag of Akela kibble, a Kennel Club 5 generation Pedigree Certificate and a comprehensive Puppy Pack.  We also offer a life time's support and back up to our puppy owners.
For more info on our puppies, along with photos and videos have a look at our blog pages.
Litters:
2017 – Tess of the d'urbevilles