Name:  Dora Baggins (or Dora the Explorer)
Kennel Name:  Madincrowd Bathsheba JW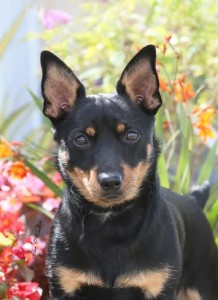 DOB:  4th December 2013
Likes:  
Agility – goes like the clappers!
Her tuggies "Bunny" & "Sheep"
Being mischievous
Chewing
Teasing Bilbo
Jumping from great heights onto any passing Heeler
Digging holes
Achievements:
~  BEST BITCH at Crufts 2018  ~
** Lancashire Heeler Club TOP PUPPY 2014  **
~~ First Lancashire Heeler to get through to the Junior Warrant Semi-Finals Competition – one of 64 dogs! ~~
Junior Warrant 
Silver & Bronze Good Citizens KC Scheme
Show Results:
Dora's best wins:
Southampton Open 2014 – AVNSC BP & PG2 – First ever show so thrilled to bits! 
Poole Open 2014 – BP & PG2
Windsor Champ 2014 – BP
Bournemouth Champ 2014 – BP & BOB
Richmond Champ 2014 – BP
Driffield Champ 2014 – BP & RCC
SWKA Champ 2014 – RCC
Bridgewater Open 2014 – BP & PG3
Bristol Dog Club Open 2014 – BOB
Hampshire Top Puppy 2015 – through to semi-finals
Lancashire Heeler Association Open 2015 – BOB / BB (with Boris, her brother, winning RBOB!)
Christchurch & New Forest Open 2015 – RBOB
Gillingham & Shaftesbury Open 2015 – BOB AVNSC / G4 plus won through to JW semi final competition in London
SWW&PBA Open 2015 – RBOB
Portsmouth & Southsea Open 2016 – RBOB
W&PB of Wales Champ 2016 – BB
Christchurch & New Forest Open 2016 – BOB
Poole Open 2016 – BOB/ G4
Bournemouth Champ 2016 – BOB
Gillingham & Shaftesbury Open 2016 – BOB
SWW&PBA Open 2016 – BOB
Crufts 2017 – 3rd in LB 
Bristol & District 2017 – BOB
WELKS Champ 2017 – RBB
Border Union Champ 2017 – RCC
Lancashire Heeler Association 2017 – RBB
Bournemouth Champ 2017 – BB
Crufts 2018 – Her first CC and Best Bitch
Paignton Champ 2018 – CC