It was a blisteringly hot couple of days at the Hampshire Country Show on 6-7 May 2018 – quite the opposite to Thame a month ago!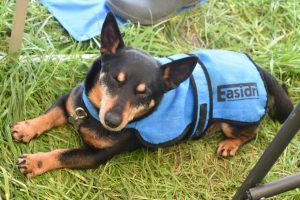 Everyone was feeling the heat and we had taken our cool coats for the dogs which they wore all day long.  Many people were asking why our dogs were wearing coats in the heat and were surprised when touching them how cool and refreshing they were – we were also asked if there was a human version as there was very little shade on the showground!  Maybe there is a marketing opportunity here?  We were allowed to pack up slightly early on Bank Holiday Monday due to the heat for the sake of all the animals on display.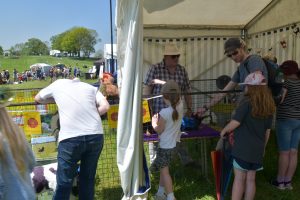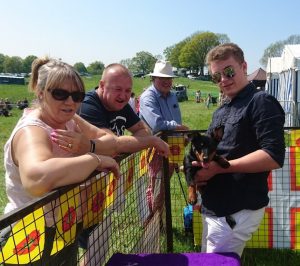 We were joined by Dave and his family – Dave was the puppy dog from our December 2017 litter and is now living in Calne. He was a natural and enjoyed entertaining his adoring public!
Spot, Dora's brother from our first litter, came with owner Sandra for both days to help out.  He also managed to find the energy to enter Chase the Bunny Competition on the Monday where he was competing against all sizes of dogs (apart from greyhounds and lurchers) and he performed brilliantly to win through and become Chase the Bunny Champion!  He will now come to Bowood Game Fair for the Chase the Bunny Grand Final later in the year – a great day for Heelers all round 🙂 and our grateful thanks to our helpers and their dogs.
By the end of Sunday we retired to the caravan exhausted, the dogs had done so well and kept going in the relentless heat – Bilbo, whose batteries never seem to run down, eventually caved in and flaked out covered by his comfort blanket: