December 2017 – Madincrowd's third litter
Our third litter arrived on 6 December 2017.  Pickle is now the proud mum of one boy and three girls who are all doing well and gaining weight.  It wasn't such an easy whelping as her previous litters but she is a wonderful mother and so protective of her little brood.  They are being brought up in our study and will have a couple of weeks' peace and quiet in there before being brought out into the sitting room and joining in with the rest of the family.
Click here to see videos of puppies at 10 days' old
∼∼∼∼∼∼∼∼∼∼∼∼
"The Return of the Native" second litter – 2015
Madincrowd's first litter – 2013
Our first litter arrived at 3am on Wednesday 4th December 2013 – a very exciting event and a first for all of us!
Pickle had visited Mouse (Foxthyme Maori) and the result was three gorgeous pups: one bitch and two dogs.  We promptly named them Big Bertha (for obvious reasons as she was the largest and first born), followed by Flash Harry and Spot the Dog.
Pickle is an excellent mum and very attentive. The pups doubled their weight very quickly and have been a constant source of fun, amusement as well as a steep learning curve – chicks and ducklings are no problem, but puppies are quite a different prospect!
Once they were over two weeks' old we brought them out from the study into the sitting room where they shared Christmas celebrations with us and the whole family – adding an extra dimension to the proceedings.  They are pretty well bombproof after that and sleep through all sorts of noise!  We have had lots of visitors and tea parties where the pups are the main attraction, they have been so well behaved and loved meeting everyone.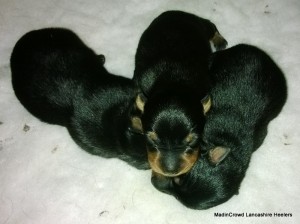 They enjoy being carried about inside our coats to visit the garden centre over the road, or shops in Ferndown – and even to my dental surgery where everyone downed tools to come and have a cuddle!
They have been to Southampton for eye tests and travelled all the way there and back without being car sick, they also passed their eye tests for CEA with flying colours.
I hope we have done our best to give them a good start in life and they all seem to be happy, confident pups.  We will of course be keeping Big Bertha – or Dora as she is now known, and Harry will be keeping his Dad Mouse and Uncle Ouzo company up with Lynn and Charlie in Bristol.  It will be fun to meet up at shows and see how they are all progressing!
More photos to follow …